Site History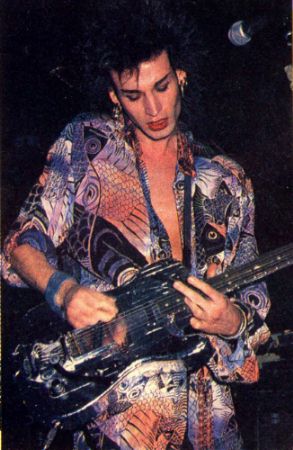 Here is the story of this web site's creation, and since.
I started my first site, a poetry one, in the summer of 1998. As I learned more about web site building, I added to it. By the end of that year, I had done as much work on it as I thought I should. I didn't want to distract from, and overwhelm the poetry.
So, I decided to start a second site. I had noticed that there were just a handful of sites about Daniel, so I thought I should make my new site about him. But, I just couldn't come up with a design, a title, or much enthusiasm after awhile. So, I shelved the new Daniel site, and created my Richey Edwards site.
Then, in 2002, I decided to post my collection of articles about Daniel after noticing that there still wasn't much of the material on the web. I also had been referring to some of my articles when posting on the danielash.org message board. But, as I scanned my collection into my computer, I realised that the time for the new Daniel web site had come. I started getting the ideas that hadn't come to me before. I decided to share my stories of the times I've met Daniel. (This also means that I have written records of these events for myself.)
BTW, I chose the purple background for this site, because it's the colour associated with Daniel's astrology sign, Leo. And the title came from my affectionate feelings towards Daniel after the four shows of his solo tour. There's no connection with anything Irish, as Daniel isn't any bit Irish, as far as I know.
Originally, this site was a subdirectory on my poetry site on Angelfire. In January 2003, after having problems with the editor there, I decided a move to a new server was in order. Tripod seemed to be a good new home for this site. And while I was moving the site, I decided to change the navigation of it, in part, to better accommodate the site's growth since I initially debuted it on 2 July, 2002.
A second move to Yahoo/Geocities came in May 2005.
During the summer of 2005, I changed the site's navigational system again. Visitors using Netscape, Firefox, Mozilla, etc. browsers couldn't see the old menu I had put in in January 2003, so they had no way to see the site beyond the home page. (A problem I didn't even know about for about a year!) Also, I finished updating and rewriting the HTML code on every page of this site - a project I had started in the summer of 2004.
I was going to delete this site in October 2005. But, then I decided I would leave it up, as long as I made some major changes to it. On October 25, 2005, I reduced the site drastically, removing several sections and many pages, and making a few other changes.
I was sure I'd never do much more with this site, but when Yahoo announced in Spring 2009 that they were going to close GeoCities later that year, yet another move was in order, since I still wanted the site to be online. So, off to 50Webs.com! I'm really hoping that the third time is the charm, and I don't have to move it again!